Della Terra Farm is just a short easy drive in the country. Enjoy the rolling hills of far Northeast Rains County. Open Saturdays from 1-6 p.m. or by appointment.
Call 903-335-6600 or 903-485-2380.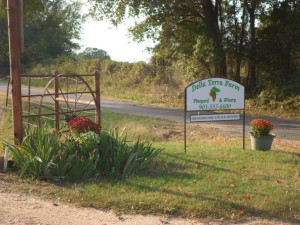 Once here, sit back, relax and restore – with a glass of wine – in our new tasting room,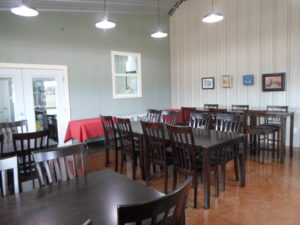 or while strolling through the vineyard.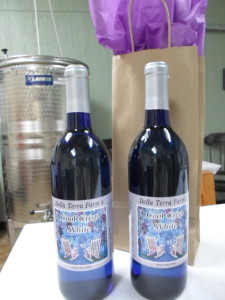 Cool Crisp White is a blend of our locally grown and fermented Blanc du Bois grapes and the Texas coastal Vermentino. The golden blend brings out floral and crisp grapefruit-like flavors with a hint of saltiness from the sea. Enjoy this lightly sweet wine anywhere, but we like a chilled glass while relaxing on the porch at the end of the day.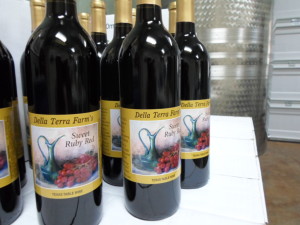 Sweet Ruby Red is a blend of our locally grown and fermented Lenoir (Black Spanish) grapes and the West Texas Dolcetto. The deep ruby red blend is sweetly robust with a bit of a spicy kick. Serve this wine any time. It pairs well with and brings out the flavors of Texas.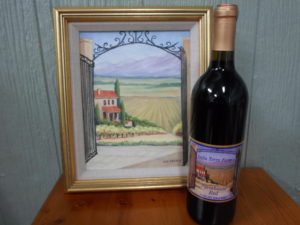 Farmhouse Red is our favorite blend of Lenoir (Black Spanish) grapes and West Texas Montepulciano.
Blanc de la Vigne – is made with Blanc du Bois grapes – grown here on the farm. It is cold fermented in stainless steel to deliver fresh peach and pear flavors.
Creating wine is a work of art and a thing of beauty. We extend those ideals to every endeavor on Della Terra Farm – from the vast rolling hills, rich green pastures and vineyards to the small but important details of bottling our wines. Every bottle is a delightful labor of love, showcasing the artwork of local Texans.